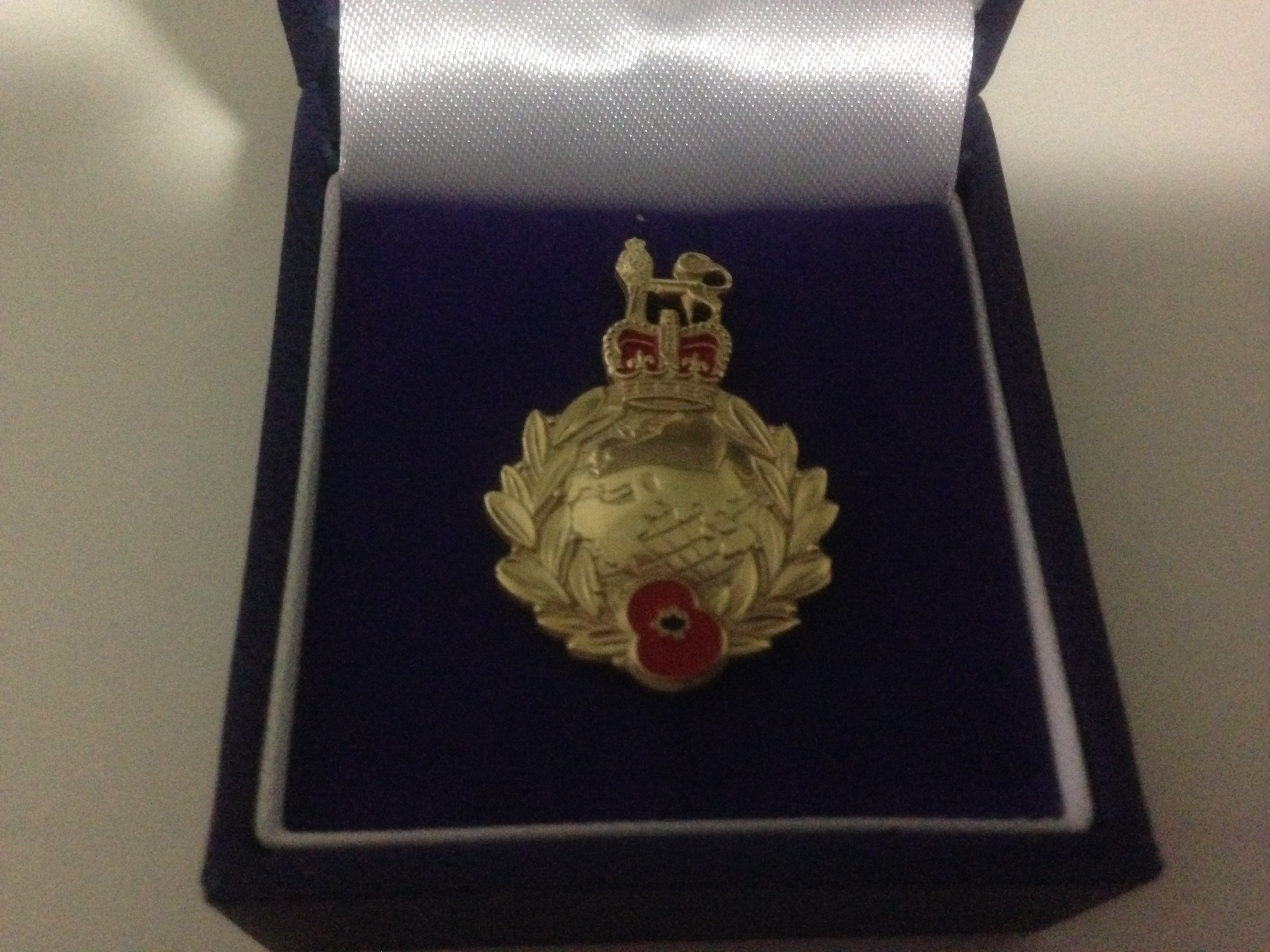 Two weeks ago my wife, Sally  and I visited The Armed Forces Memorial in Britain's National Arboretum. Like the splendid Australian War Memorial in Canberra it is a nationally significant focus for Remembrance. It honours those members of the Armed Forces (Regular and Reserve) who were killed on duty while performing functions attributable to the special circumstances and requirements of the Armed Forces, or as a result of terrorist action, and those who died while deployed on designated operations since the end of WW2.
Unlike the World War memorials in towns and villages across the United Kingdom, there is nowhere else that records over 16,000 names of those who have been killed on duty in recent times.
The memorial
The centrepiece of the Memorial is two large bronze sculptures, representing loss and sacrifice, on either side of a central bronze laurel wreath. Created by Ian Rank-Broadley, the sculptures bear silent witness to the cost of armed conflict.
To the north, a Serviceman is raised aloft on a stretcher by comrades. On either side family members look on – a mother clasped by a child and an older couple clutching each other in anguish. It bears witness to the cost of armed conflict to those left behind – the families, loved ones and friends who live with the pain and consequence of their loss for the rest of their lives.
Opposite, the body of a warrior is being prepared for burial by female and Gurkha soldiers. The figure before the double doors points to a world beyond where the warrior will rest as another figure chisels the name on the memorial
The Memorial is a stunning piece of architecture comprising a 43 metre diameter stone structure with two curved walls and two straight walls containing the names of those honoured there.
The names of those who have died are recorded in date and Service order from 1946, grouped together with colleagues who died in the same incident.
Our journey
Sally and I were able to slowly walk the wall from 1978 when we both joined the UK Armed Forces as 17 year olds, Sally the Women's Royal Naval Service and me initially the Royal Navy and then the Royal Marines.
As we walked the 40 or so meters towards 2017, we recognised with some degree of shock, the names and recalled the faces of many, many friends and colleagues now long gone. More, I am sad to say, than we would have remembered if asked to recall.
It struck me hard that while a lot of them had died in action, so many more had been killed in training including our very own oldest son, Marine Jamie Hutton, aged 23 in 2008.
Ours is a tough profession. We do dangerous things and put ourselves in harms way as our nations demand. We have to train for that.
Frequently the enemy does not bear arms, but disguises himself as bad weather and arduous conditions and he manifests himself in fatigue and poor judgement. Through combinations of seemingly tiny and innocuous errors events conspire and align to become catastrophes and before you know it, death is around you.
Sadly, I have had men under my command die in just such circumstances, in my company or in my arms, whither at the hand of our nations enemies or our natural environmental ones they were there and then they were gone. Bright flames extinguished, leaving nothing but pain, grief and memories of great times and thoughts of what might have been. Such is life in the Armed Forces.
So for me, Remembrance is a special day. It is a day where I recognise that without venture, nothing is gained, that taking risks are part of the daily lives of our soldiers, sailors, marines and airmen. They do their best to prepare for combat and sometimes that results in tragedy.
Whether they died in action or by misfortune they were in uniform, serving their country, nonetheless.
It is important that we remember them all.
Lest we forget.